THE FUTURE BELONGS TO THOSE WHO SEE POSSIBILITIES
At Iconic Open University, we believe those who take action are those who shape the future.
APPLY NOW
LEARN TO BE AN ICON
We don't just give students an education or experience that set them up for a career, but, we help them succeed as drivers of the sector.
APPLY NOW
The University is committed to making education accessible to everyone from their comfort zone.
We provide an equal opportunity for all students and make earning a degree a real possibility even for the neediest ones.
Fostering academic research, intellectual growth, and enhancing learning experiences are some of the goals of the Institution.
Inspired By Excellence & Innovation
We Offer A Wide Range Of High Quality Teaching And Extra-Curricular Activities
WHY CHOOSE ICONIC UNIVERSITY?
Iconic University is a private open, distance, and e-Learning University approved by the National Universities Commission (NUC) in Nigeria to provide an advanced educational opportunity for prospective students hoping to get a degree in an array of courses. The university is headquartered in Sokoto State of Nigeria, with potential study centers across cities in Nigeria and beyond.
The Iconic Open University allows students to pursue programs from their comfort zone by delivering theoretical learning online and practical learning experiences at face-to-face learning centers. It gives the advantage for students' placement as apprentices in the industry that is relevant to their careers, thereby acquiring skills, technical knowledge, and industry-based experience. It also allows working-class individuals to acquire knowledge, skills, and techniques relevant to their present work situation or future career prospects.
Thus, Iconic Open University provides an opportunity to upgrade academic qualifications without giving up jobs or relationships while being domiciled in the workplace. The University system affords students to study from any location in the globe. The university system is also flexible regarding age and time, allowing for enrolment at any time and the convenience of pace dictated by the student.
Iconic schools & colleges
Covering Topics From Classes To Field Experience and Student Apprenticeship
Covering
Latest

News

and

Insights

From Within & Outside Iconic University Community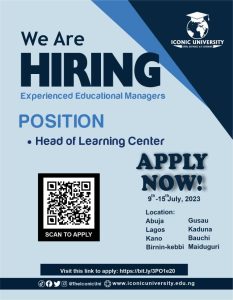 News
Are you a passionate and dynamic individual with a strong background in education? Do you have experience in managing and leading a team/school? If so,
Read More »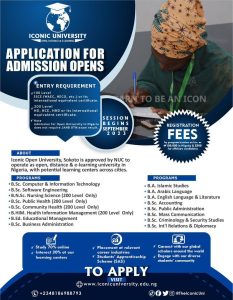 News
Iconic Open University is licensed by NUC to operate as an open distance and e-learning university in Nigeria, with headquarters in Sokoto and potential learning
Read More »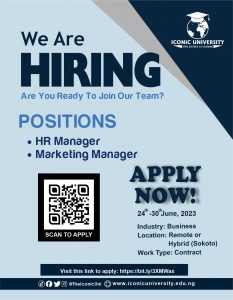 News
Apply for Human Resource Manager Iconic Open University is seeking an experienced HR manager to lead and manage the Human Resources Department of the University.
Read More »
The Iconic Open University is a 21st-century institution, focused solely on open and distance education. It is an institution of higher learning dedicated to the principle that "innovation occurs when learning, research and creativity are practiced using technology mandate and applied to real-world challenges and opportunities" the University focus on innovation, research and building more than liberal education and emerge to be more than an academic institution but a powerful economic engine as an investment.
Become Part Of Iconic University of Open Learning To Further Your Career
JOIN A COMMUNITY OF
CHANGE MAKERS
STUDYING AT ICONIC UNIVERSITY NOW
We strive to create a learning environment that is supportive, collaborative, and creative, and that encourages students to develop the skills, knowledge, and attitudes necessary to become effective and successful professionals in their chosen fields.
We strive to provide a safe, ethical, and compassionate environment that values diversity, promotes collaboration, and facilitates life-long learning. We are committed to promoting health equity, reducing health disparities, and addressing the social determinants of health.
We aim to create a stimulating learning environment that encourages collaboration, critical thinking, and intellectual curiosity. Additionally, we commit to promoting an appreciation and understanding of diversity, cultural awareness, and inclusion.
Our goal is to be a leader in the advancement of knowledge, practice, and theory about the management of organizations and the economies in which they operate. We strive to create an environment that fosters creativity and interdisciplinary collaboration, encourages lifelong learning, and develops responsible citizens.
Our goal is to provide students with an in-depth knowledge of the social sciences, enabling them to understand and appreciate the complexity of our society and to become active, informed citizens. Through research, teaching, and service, we strive to promote a better understanding of the human experience, foster critical thinking, and encourage civic engagement.